Features of the Sumioka Foods Group
Full support for OEM from the selection of raw materials to planning, development, manufacturing, and shipping
Hygiene management that exceeds standards, and extraordinary commercialization speed
The secret of such a speed to commercialize in a short time to delivery lies in our track record of OEM development and technical capabilities,
as well as our unique support system and a high standard of in-house factory equipment. We also deal with small lots and mass production.
01

Total support for product development with production capability
cultivated over 100 years of experience

Utilizing the technological and production capabilities cultivated in the noodle production industry for over 100 years, we have a track record of developing OEM products for many health foods. We support the entire OEM product development, from planning and development to manufacturing and shipping. We accommodate short time to delivery, small lots, and mass production.
02

Please let us deal with various applications, including that for Foods with Function Claims.

For products manufactured by our company, we provide proposals for materials compatible with functionality display, support for examining labeling examples, and support for preparing documents to submit.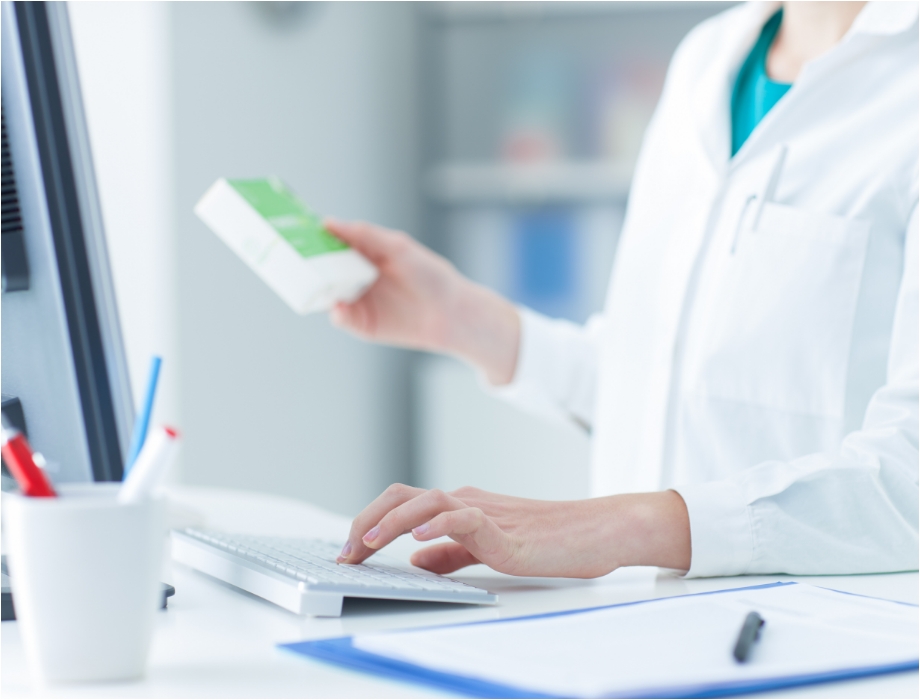 03

High-standard hygiene management and process control

By implementing strict hygiene management and inspection system at our domestic factories, we have established a high-standard production environment. We have introduced vibrating screens, magnets, metal detectors, and X-ray inspection machines. They are scheduled to be introduced in all production lines in sequence.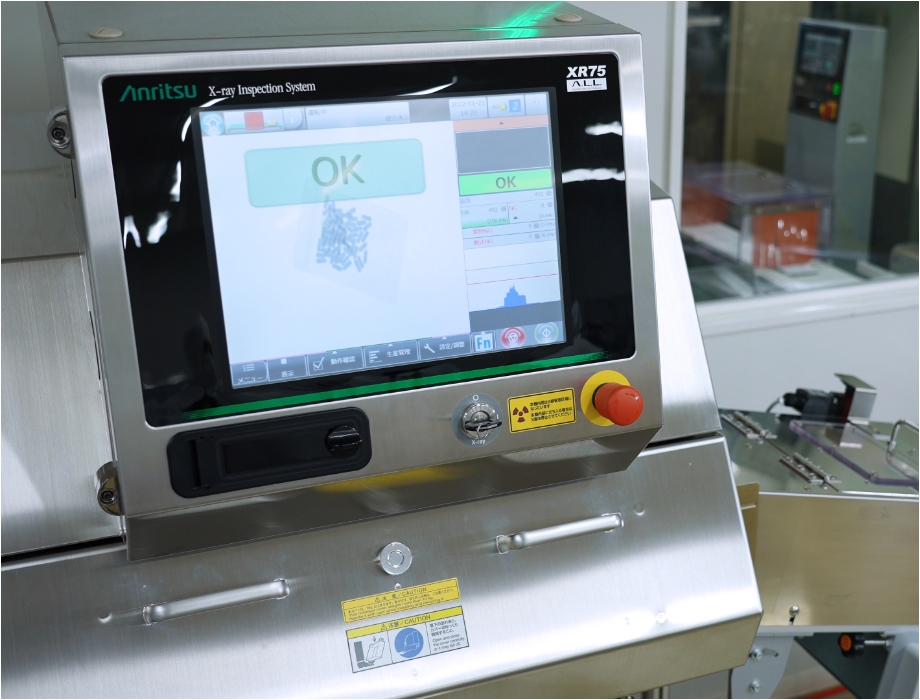 04

The contact person is our staff in charge of planning and development
The person in charge of planning and development manages the project

The Sumioka Foods Group does not have a sales force. Our planning and development staff member will be the direct contact person who is in charge of the entire planning, realizing commercialization at high speed.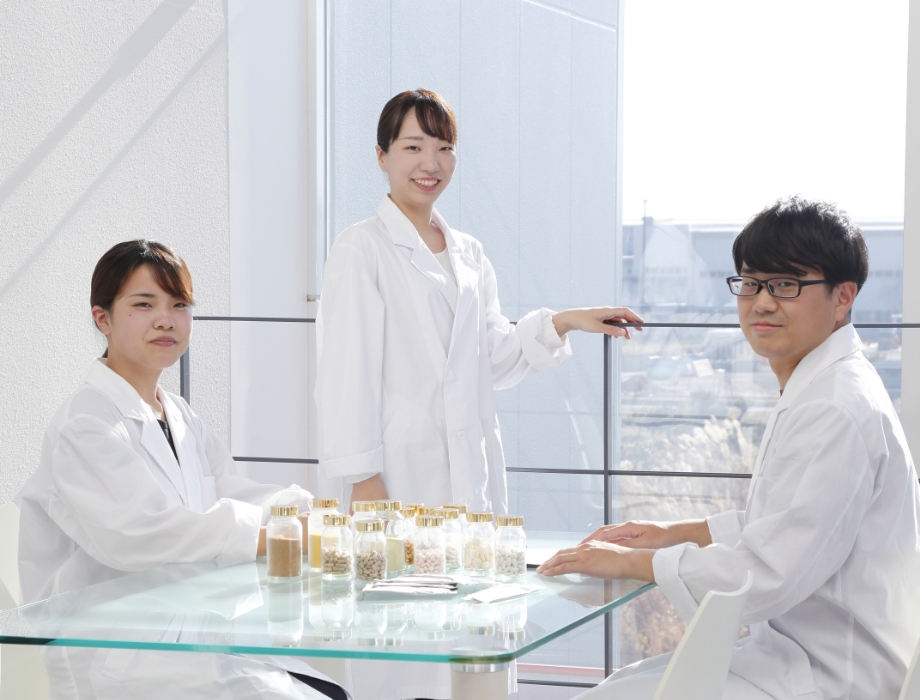 05

Flexible support for mass production as well as small-lot production of various products

For mass production, we have a fluid bed granulator/mixer that can produce about 300 kg at once. Small-lot production of various products is also an area of specialty of Sumioka Foods Corporation. Please feel free to contact us.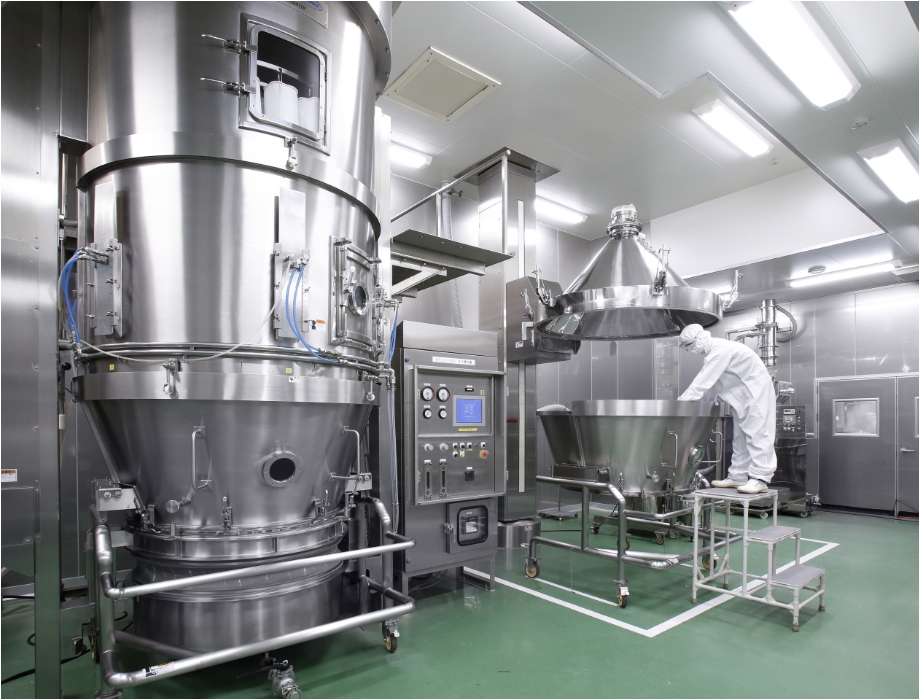 06

Extensive analysis system
aiming for zero risks

We strive to improve quality and productivity by scientifically evaluating the ingredients through analysis from every angle and by reducing risks.
Talking from employees' perspective,
Story of product development/manufacturing
Employee Interview: Product Planning Department
Employee Interview: Manufacturing Department
Flow of OEM (original equipment manufacturing)
Interview

Please tell us your requests and situation. Our staff in charge of planning and development will directly listen to your details and propose a specific product plan.

Planning and proposal

We will propose competitive product plans, such as prescriptions and rough estimates, that meet your requests.

Sample creation

We will create trial products while evaluating and studying the taste, appearance, physical properties, manufacturing suitability, safety, etc. together with you.

Manufacturing

After making a trial product by an actual machine, setting the expiry date, and examining the contents to display, we will manufacture it under strict hygiene management at our own factory in Japan (Shizuoka), which is certified for JHNFA Good Manufacturing Practice (GMP) program for dietary supplements (there are some exceptions).

Product check/inspection/shipping

We will ship products that have passed the product inspection. Various forms of packaging are available upon request.

Support for various applications

We will also provide support for various applications, such as investigation of related laws and regulations, intellectual property management, and Foods with Function Claims.
Frequently asked questions about factory production
Q

Can you manufacture food additive preparation?

We do not currently have authorization for business in the food additive manufacturing industry (we do process former existing additives/food additives).

Q

Can you sterilize and crush raw materials?

Yes, we can. We own an airflow sterilizer, fine grinding equipment, and a particle size distribution measuring device.

Q

I would like to commercialize Foods with Function Claims. Can you provide support for my application?

We can provide support for your application submission.
Please feel free to contact us first.
Please use the form below to make inquiries. → Inquiry form

Q

Can you manufacture Informed Choice Products?

We accommodate the production of Informed Choice/Informed Sports products.
We provide support for your application.

Q

Can you manufacture organic JAS products?

Yes, we can. Hamakita Factory of Sumioka Foods Corporation has acquired the certification of a certified organic production process manager. → Certification